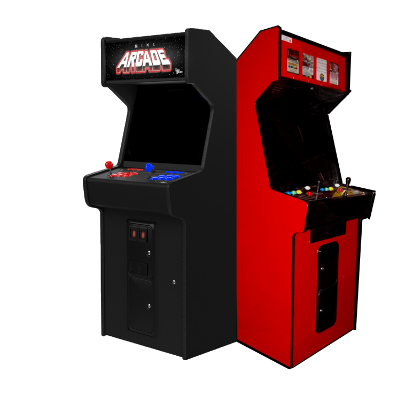 All of our Retro Style Arcade cabinets are designed after the look and feel of your favorite 80's and 90's style arcade cabinets in order to relive those magical moments of when you placed your first quarder in arcade coin slot. We offer several styles of systems, two of which are either PC Based Mame Cabinets, and the Jamma Based Arcade cabinets. Each style system has its pros and cons depending on the experience level of the user.

For example, the easiest systems to use are the Jamma based Retro Arcades. These systems are ready to go as soon as you turn the power on. Everything is embedded and there are no configurations that are needed to setup, your only limitation is the number of games you purchase, although you can purchase an upgrade later if you want more games. There are currently 19-in-1, 150-in-1 all the way up to 1300-in-1.

The more advanced systems that require a little more advanced knowledge are our PC based Retro Arcades. They are mostly windows based and require a little bit of configuring to get your games installed on the hard drive. As with any operating system, you can connect it to the network, make changes to the system remotely and do just about anything with the system that allow more advanced interactivity. The PC based systems are based off of a custom computer configuration built by Megamancave directly to ensure the best speed, quality and sound you should expect in an arcade system! In addition to games, these systems can provide Jukebox style of entertainment and so much more!
PC Based Retro Arcade

Just like our Retro Arcade Mame systems, these systems are based off of a custom computer system built by Megamancave directly to ensure the best speed, quality and sound you should expect in an arcade system! These systems are a not for the technical novice. The PC based systems do require a little more technical knowledge on the customer side to get ramped up and running, but these systems offer the greatest volume of available titles to choose from. In addition to the games available, these systems can provide Jukebox style of entertainment, Movie streaming and so much more!

All of our MAME/PC Pedestal systems come with the following:
Happ Buttons and Joysticks
Ultimarc I-Pac Controller
Audio Sound System with Volume Control
T-Molding (Your Choice of Color!)
New Computer from Megamancave
Licensed Operating System (Windows)
Integrated Frond End for console gaming
Cooling fans with Grills
Built In Surge Protector



(We do not SELL ANY GAME ROMS or MP3's with these PC systems)


Jamma Based Retro Arcade
These systems are designed for the technical novice, or those who just want to turn on the system and start gaming out of the box! This arcade offers a robust graphical user interface for game selection from the second it is turned on! The Jamma based game system offers offers fighting games such as Street Fighter III, Marvel vs Capcom, etc as well as your classics like Asteroids, Pacman, Digdug and many more!. This system would make a great minimal maintenance option for your Meeting Rooms, Break Rooms and livingrooms!


All of our JAMMA Pedestal based systems come with the following:
Happ Buttons and Joysticks
Audio Sound System with Volume Control
T-Molding (Your Choice of Color!)
Jamma based Quad Core system
Embedded Operating System
Integrated Frond End for console gaming
Cooling fans with Grills
Built In Surge Protector